Imagine toi est produit par Little One & diffusé par Témal Productions
Julien-Cottereau-extraits"Imagine-toi"-2008 -

8'25




La version film complet du spectacle est 1h15 - Montage - Toni Di Cicco Captation-Véronic-Roux-Voloir
Presse "Imagine toi"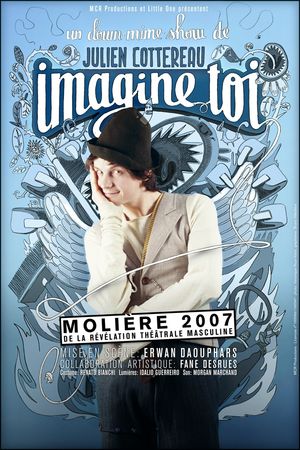 Photo : Roux Voloir Graphisme : Bruno Villedieux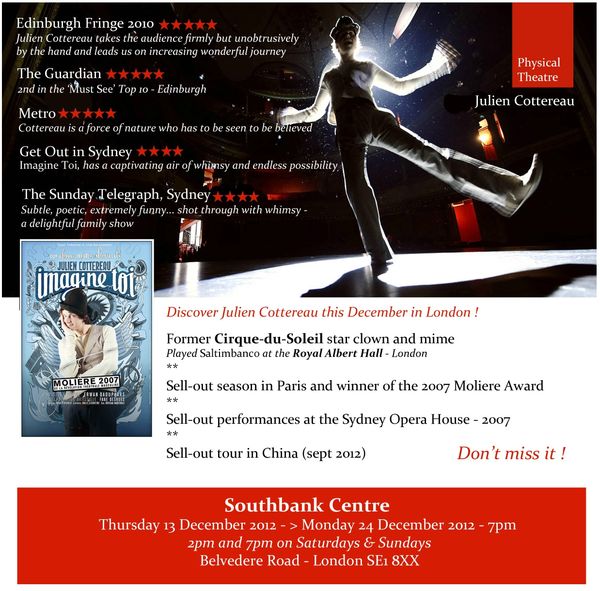 Le MONDE Samedi 1er novembre 2008
La partition sans parole de Julien Cottereau
Aux Bouffes Parisiens « Imagine-toi » mêle l'art du clown, du mime et du bruiteur.
Spectacle
Avez-vous déjà testé le bruit de l'index de votre main droite frappant la paume de votre main gauche pour applaudir un spectacle ? Et avez-vous déjà entendu le concert de cinq cents spectateurs témoignant de la même manière leur enthousiasme ? Cette expérience inédite, parmi beaucoup d'autres, fait le charme insolite et la douceur décalée du one man show Imagine-toi de Julien Cottereau, qui après une longue tournée à l'étranger, est à l'affiche du théâtre des Bouffes Parisiens, à Paris jusqu'au 10 janvier 2009.
Créée en 2006 du Festival Off d' Avignon, bardée du Molière de la révélation théâtrale en 2007 et du prix SACD 2008 (Société des auteurs et compositeurs dramatiques) dans la catégorie one man show, cette performance inclassable, remodelée sous la houlette du metteur en scène Erwan Daouphars, vaut largement toutes ses récompenses.
Julien Cottereau est clown (sans nez rouge) mime (sans masque blanc) acteur et surtout bruiteur. Il sonorise en direct la moindre de ses actions, tous les objets qu'il fait apparaître devant nos yeux, du déodorant à la contrebasse. Sans l'appui d'aucune parole, sa partition spectaculaire, compréhensible au quart de croche, se révèle d'une finesse extrême, tant du point de vue de l'invention des bruits que du rythme corporel.
Héros mal fagoté
Un talent d'excellence, qui lui permet de jouer en même temps le balayeur et son balai, le chien et sa balle, que cet homme de 39 ans, qui en paraît parfois 20, a affiné sur le fil d'un parcours étonnant. Passé par une formation de comédien à l'Ecole Nationale supérieure des arts et techniques du Théâtre à Lyon, Cottereau se convertit à l'art du clown à Londres auprès de Philippe Gaulier. En 1994, au Canada, il signe avec le cirque du Soleil pour le spectacle Saltimbanco, jusqu'en 2007. Dans ce cadre, il imagine un numéro de clown-mime en solo intitulé Eddy. Ce personnage est le prémice du héros de Imagine-toi, héros mal fagoté, raide et cahotant, solitaire mais débordant d'imagination pour contrer l'ogre qui le tabasse régulièrement.
Atypique, Julien Cottereau, par ailleurs acteur pour Eric Zonka ou Toni Marshall au cinéma, l'est aussi en tant que mime. Cet art corporel, fort peu diffusé en France – le festival Mimos de Périgueux est l'un des rares bastions du genre – se voit ici revitalisé.
A la démesure de cet iconoclaste, son « clown-mime-show » est anachronique. Par les temps qui courent, faire rire, serrer le cœur, émouvoir et épater par dessus le marché prend des allures d'exploit. Humaniste, plein de foi en la capacité de chacun à changer la réalité. Gentil aussi, Imagine-toi est insaisissable, à l'écart de toutes les productions actuelles.
Ultra-doué alors, Julien Cottereau ? Oui et même davantage, car résolument bizarre. Cette étrangeté rend sa façon d'attraper le public épatante. Car il ne se contente pas de se mettre en scène. Il fait participer les spectateurs . Enfants et adultes se retrouvent chaque soir à ses côtés pour de petits numéros bruités à grand renfort de « Grrr » et « raaahh ».
On a vu et revu depuis des années des spectacles interactifs, comme on dit. Celui là est un autre. Julien Cottereau possède une empathie rare, développée sans doute lors de ses multiples tournées mondiales. Depuis 2002, il collabore avec l'association Clowns sans frontières pour les enfants victimes de la guerre, de la misère, en Palestine, ou en Afghanistan. Cet enchanteur burlesque est un homme précieux.
August 2007
Imagine toi. Inside the mind of a clown by Ruby Boukabou.
I fisrt saw Julien Cottereau performing in "I love Burlesk Cabaret" at the Chat Noir in Carouge, Switzerland, 2005. He was the mime from Paris, known for his years in Cirque du Soleil. His act combined Clowning and mime with his personnal soundtrack of squeaks, clicks, and purrs. Within moments of appearing on stage, he had the audience eating out of his hand. His cute boyishclown character was adorable and his humour universal.Cottereau has arrived in Sydney to perform at the Opera House, in Imagine toi, his solo show that recently won him one of the most prestigious theatre awards in France - a Molière.
What is your first memory of performance ?
- I was in my fahter's educational film at 2 years old, naked with my cousin who was one, with a big lollypop ! I remember telling stories to the camera with my body. The way I was interacting was physical.
Did you naturally go into performance after school ?
- I wanted to be drummer but school was to expensive. So I went to a tourism school. It has a great theatre class...
What was the moment you decided to follow theatre ?
- I had a dream that I had Jiminy Cricket – my conscious – on my shoulder...I was walking and crossing people. He said "Do you know these people ? Isaid "No". He said "Stop". I kept walking. After three times I stopped. He said "What do you see ? I saw people in front a gate, frightened. They were screaming. Behind the gate was a cemetery. He said "Did you see your 20 years go ? I said "No". He said "It passed like a day" i said "yes" He said "In 2 days you're 40, in 3 days you're 60, in 4 days you're in front of the gate...but you don't know where you're going, and you don't know the people you're crossing. You don't know anything. I said "What do I do ?" He said "Cross the field, the open field, go to the nature" I said "Ok ok you're right" I was running running until a forest. All the trees were concrete. He said "Find a tree you like and sit at the bottom. So I did and I sat. I'm reading and I feel the tree is reading with me. That's where the dream ended. The day after just before Christmas, three months in my tourism school, I'm on the fird flor , and waitind for my teacher who is late. I look through the window and see a cemetery. I said "Ok I quit" After the holliday I said "I have to leave and work but can I stay for the theatre lessons ?" For 6 months I was doing different little jobs while preparing my audition for national theatre schools.
What was the base of your training at Rue Blanche ?
-Commedia del Arte, mask, clown, history of theatre, Sheakspeare,Chekov, translation...the philsophy of the school was to create companies afterwards as it trained all aspects of theatre – technicians, admin, set designers, performers....
Cirque du Soleil ?...
-My clown teacher was the father of Juliet Binoche. He saw me in a show I was doing with friends when I was 21. He helped me. He found me the audition of the replacement clown in Japon for Saltimbanco....I felt very excited but also shitty. I was just 22 and replacing a guy with 20 years of experience. I had no learnt one hour of mine before. I am a clown – I don't have to learn that...But I had a voice: "you can be mime"...so I knew. I put all my heart inside. The show in Cirque du soleil can be too perfect. So the clown can be the little thing that's more human.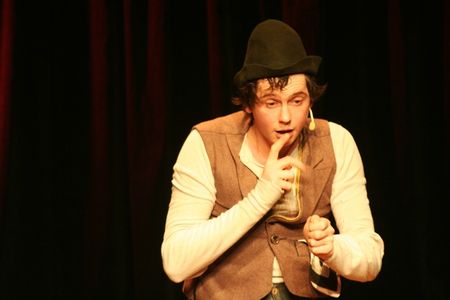 What is a clown for you ?
-A clown is very particular fellow. He's like a combination of a tramp, a child and a wise philosopher. He also has a particular talent to transform tragedy with twists to make people laugh. He's charming with physical fantasy.
Why is a clown important to society ?
-Because a lot of people are stuck in their own tragedy, and they don't know how to be creative with suffering. There's a way to be creative with suffering. To make people laugh. For suffering we have more sense of humanity and living. We're close to the earth and really feeling everything.Clowning is a very nice way to use everything you don't like and to take things that make you suffer and transform them to laugher.
What is it that makes you walk home at the end and said "that was a good show " ?
-If there's one or two people that laugh so hard that they make the show. They laugh so hard that everybody else laughs....There's a certain quality of grace in the show – for me – but I don't know if it's that for other people...I can be wrong...There's a strong emotion, laughing together. There's a trancendence that's happened.
Is that the drug ?- Yes. That's life. The feeling that you feelthe same. A group of feeling the same, it's very important.. You are part of it.
And you can control the laugh ?

- To control the laugh can be perverse. Laughing can be perverse. People say clowns are tragic and sad. It that true or sometimes true ? They are sad when there're alone.
Are you alone ?
- In the show yes. In life it's a choice; it's a game with rules. It's a game with rules. A clown is melancholic when contemplative. I forced myself to be in urgency. To be urgently doing something for myself and and for people.
What's your goal with the show ?
- I want people to be nourished. I am using my character to make them think and be more open in their heart, and be more in touch with life, and realise that's life is a miracle, that's they're a miracle. I want people to know who they are, and to take their dreams and make them real- as that is the way to happiness. To be inventive with their life and to be the boss of themself. Not to be the slave of someone else's will. To laugh. To feel the sense of life. This planet is like a beautifull dream inside a sleeping time of blackness. Can we live differently ? Can we be a little more aware of the things around us ? We killing each other for political power. We 're killing miracles. It's absolutely nonsense.
August 2007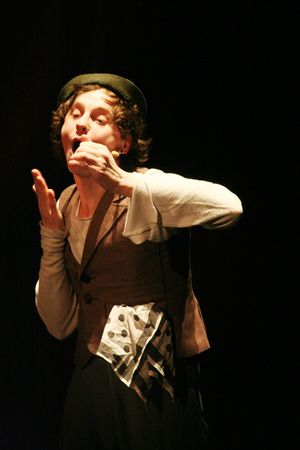 Photo : roux voloir
NOT A WORD BUT FRENCH MIME BREAKS THE RULES
Louise Schwartzkoff.
Of all the performing art, mime is almost to guaranteed to trigger eye rolling and cringing even among the most tolerant audiences. It has become so universally there are several websites devoted to tirades against the so-called monochromatic morons.
Julien Cottereau is a french mime artist who for 12 years played Eddy the Clown with Cirque du Soleil. Cottereau is a leading advocate for mime, but in his new one man-show, Imagine toi, he breaks the oldest rule in the mime handbook : he opens his mooth. Cottereau uses mime to create a universe populated by irritated dogs, evil rivals and beautifull princesses, but accompanies his performance with cacophony of verbal effects.Despite his extensive repertoire, of sounds and gestures, Cottereau admits his is a simple act.While his acrobatic colleagues in Cirque du Soleil risked lifeand limb every night, Cottereau'most serious incident was a nasty bout of repetitive strain injury. "it's not a revolution, what I do"he said , "I am not breaking any rules. But, for me, all those old miming cliches are an opportunity. If a mime artist is walking an invisible dog, or pretending to be stuck in a box, as long as he does it well, the audience is going to laugh.".
Among the impossible feats of Cirque du Soleil, critics from all over the world often said Cottereau's tomfoolery was the standout act. Last year he travelled to Afghanistan, the Palestinian territories, with the charity Clowns without Borders, to entertain refugee and street children. Cottereau said these children were "masters of clowning". "These children have nothing, but they still want to be entertained. They want to fill their bellies, and they want to fill their hearts. That's the contradiction of a clown's life. With one eye he laughs, and with the other he weeps. Some people might think that' old-fashioned, but really it's a timeless ideal. Clowns are innocent, but htey are also wise. They live in tragedy, but imagination makes them optimistic.
The Sunday Telegraph – August 2007
This clown is clever beyond words
Discovered by Cirque du Soleil performing on the streets of Paris, Julien Cottereau agreed to run away with the circus and travelled the world for 10 years playing Eddy the clown in Saltimbanco. He returns to Sydney with his solo mime show Imagine toi, a totally charming performance that make the heart and soul sing.
In ill-fitting clothes, pointed shoes ans battered felt hat, Cottereau is an urchin-like man-child and innocent abroad. On an empty stage, he takes us into a world of pure imagination were endless fun and games can be had with invisible balls, chewing gum and dogs of all shapes and sizes.Off-stage, wild beasts roar and ogres snore, but on stage it's (mostly) safe to play. One minute he's in a park with a dog, then flouncing down a catwalk, rescuing a fairytale princess or weeping over a wounded animal. With his eloquent physicality, expressive face, and mischievous grin, his inspired clowning has us laughing and crying with him. Cottereau's consummate skill as a mime artist is given a contemporary twist by the vast repertoire of vocal sound effects that he uses to accompany his performance.It's incredibly clever and adds greatly to the humour. Audience participation is a key element of the show. Several spectators are coaxed on to stage and prompted to take part in the fun by gestures and whistles. At the performance we saw, participants ranged from the painfully shy to a born show-off, but were never treated with anything less than kindness. Imagine toi is a subtle, poetic, extremely funny show shot through Cottereau isn't above a fart joke. Its springs from a tradition that the French, with their history of commedia dell'arte, mime and physical performance (think Marcel Marceau, Jacques Lecoq) seem to understand innately and Cottereau is no exception. My sports-mad, PS2-playing-12-year-old was enraptured, as were other children around us. A delightful family show. Jo Litson
The Sun Herald - August 2007
SILENT STAR
If you think you hate mime and mime artists, you're not alone. Rowan Atkinson lampooned them mercilessly with his" my body is my tool" routine. Woody Allen was driven to deck a particularly annoying street mime in Scenes From A Mall. There's even an internet site (ihatemimes.com) devoting to dissing the art of silent clowning, where you can buy the T-shirt. Before you do go and see Julien Cottereau. This one-man show by the Cirque du Soleil veteran, is an invitation to leave your cynicism at the door. Even if you don't, it defies you to maintain it. Imagine toi is a series of short scenes, beginning with Cottereau as a downtrodden houseboy sweeping the floor while his master, a giant ogre, sleeps. A piece of chewing gum is all it takes to propel him into a series of inventive little escapades.
Cottereau is a technically gifted mime, but more often than not the humour comes from the emotional energy he invest in an action, rather than the strict precision with which he executes it. The 75 minutes is wordless but it is far from silent. There's a lot of audience participation and if you're invited on stage you'll be worked reasonably hard. It's all done with enormous charm and great skill.
JB
Julien Cottereau
Julien Cottereau, l'incontournable clown Eddy du Cirque du Soleil, a quitté la piste aux étoiles pour entamer une carrière en solo. D'abord au cinéma sous la direction de Pierre Jolivet (Filles Uniques), de Solveig Anspach (Hauts les Coeurs) ou d'Anne-Sophie Birot (Les Filles ne Savent Pas Nager), puis au théâtre où il vient de créer, triomphalement au festival d'Avignon 2006 "imagine-toi" qu'il reprend tous les lundis au théâtre Fontaine car les autres jours de la semaine, il est au théâtre Tristan Bernard dans "Les Manuscrits du Déluge" de Michel Marc Bouchard, mis en scène par Laurence Renn. Une double rentrée théâtrale en somme!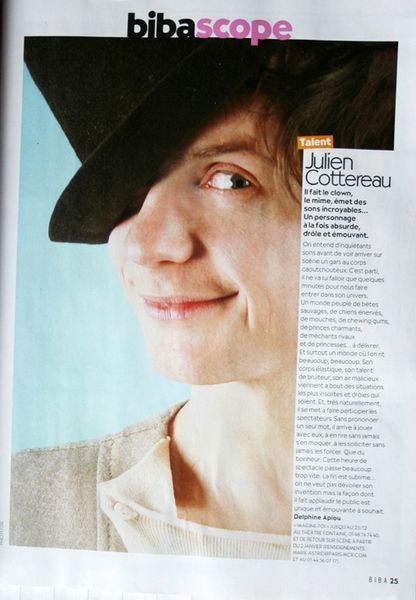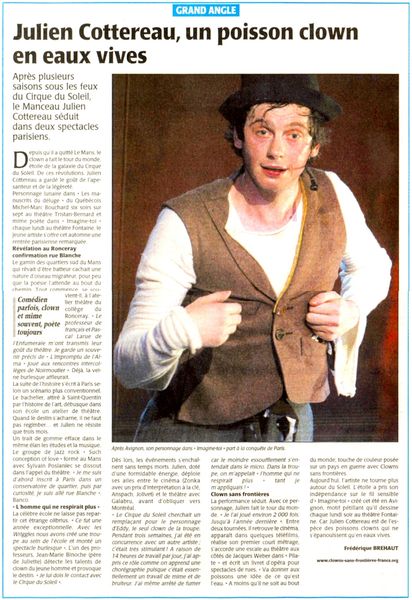 Le Parisien octobre 2006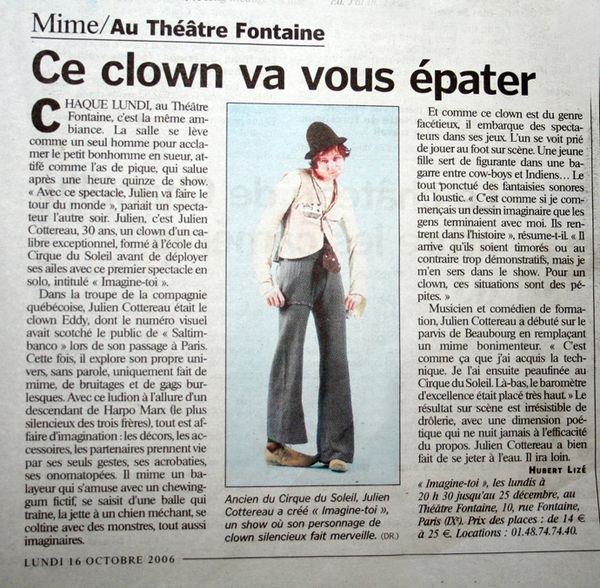 'ENTRETIEN COUP DE CŒUR

Julien Cottereau, clown et comédien à l'affiche avec IMAGINE TOI au théâtre des Mathurins

Impossible de savoir qui de l'homme ou du clown est le plus touchant .
Julien Cottereau se présente simplement devant vous avec ce regard authentique et bienveillant. On est touché en plein cœur par ce jeune homme prometteur qui a accepté de nous faire partager son univers.

Qui êtes vous Julien Cottereau ?
Je suis originaire du Mans où mes parents sont instituteurs.
Lorsque j'étais petit, mon père était déjà friand d'images de clowns. Je me souviens d'un film que je regardais où l'on voyait un clown se maquiller.
C'est marrant, car j'ai revu récemment des films de mon enfance et comme je parlais mal à 2 ans, j'utilisais beaucoup la gestuelle pour m'exprimer.
J'ai d'ailleurs gardé quelques tics gestuels que l'on retrouve encore aujourd'hui dans mon spectacle.

Mon premier rêve était de devenir batteur de jazz, (Julien Cottereau joue de la batterie depuis l'âge de 10 ans) et je n'ai découvert le théâtre qu'au collège avec une pièce de Ionesco où j'ai fait mes premiers pas sur scène.
Plus tard, j'ai été accepté à la rue Blanche (école de comédiens) où j'ai suivi une formation de comédien classique.
Comment a débuté votre aventure avec le Cirque du soleil ?
Mon professeur de clown m'a remarqué lors de différents spectacles et m'a mis en relation avec le Cirque du soleil.
J'ai passé une audition et j'ai été pris !
J'ai remplacé au Japon un clown principal qui avait 20 ans de métier. Il était clown, mime et bruiteur.
Je me suis retrouvé dans un cirque énorme. Par la force du travail et la passion, je me suis fait accepter par les autres.
J'ai voyagé partout en Asie, en Europe, en Amérique Latine, etc..
Quelle est votre définition du clown?
Un clown est avant tout un professionnel.
C'est une personne qui gagne sa vie grâce à sa fantaisie et son habilité.
C'est une technique particulière où il n'y a pas de 4éme mur. Il faut toujours être en contact avec les yeux des gens, il faut surfer entre l'émotion et les rires.
Avec le clown, on est d'abord confronté à un personnage qu'on ne veut pas voir en soi : une personne seule, en lutte, qui a faim d'amour.
On est ému aux larmes et après on rigole.
On rigole car il a de la fantaisie. Il a cette faculté d'obtenir ce qu'il veut par cette fantaisie. Plus le clown a de problèmes et plus les gens rient… !
Le clown, c'est la science de l'enfance.
Que cache un clown ?
Un besoin d'amour, de la sensibilité.
Un besoin de se faire remarquer, de faire rire depuis l'enfance pour recevoir de l'amour, de l'attention
La sensibilité vient d'un manque, d'un besoin d'être aimé encore plus que les autres.
On est un peu clown au départ, puis on le développe, on le travaille.
Moi c'est la vie qui m'a embarqué là-dedans, j'ai mis du temps avant d'accepter d'être un clown.
Vous déployez une énergie folle sur scène et vous adorez jouer avec le public!
Oui, c'est assez rock and roll. Il faut être sur la brèche, chaque soir on sauve sa peau !
J'essaye de créer avec le public un rapport d'amitié.
Pouvez-vous nous parler de votre engagement avec l'association "Clowns sans frontières" ?
Clowns sans frontière est une association qui permet d'envoyer des logisticiens préparer une tournée pour qu'une équipe d'acrobates et de clowns puissent faire des spectacles bénévolement dans des pays qui ont connu des guerres . Généralement un an après la guerre, l'association "Clowns sans frontières" essaie d'aller voir les enfants pour simplement leurs permettrent de voir un spectacle. On crée ces spectacles pour les enfants qui vivent la guerre au quotidien et on reçoit des rires comme jamais… Je suis parti à Gaza, en Afghanistan, au Soudan ; on donne et l'on comprend beaucoup de choses en retour. Le clown est aussi un philosophe qui à envie de délivrer des messages pour éventuellement réveiller les consciences. ..
Que peut-on vous souhaitez ?
Que beaucoup de personnes voient le spectacle, que les gens sortent joyeux et qu'ils aient envie d'aimer.

Sabine Poclet-Grego
Retrouvez le blog de Julien Cottereau
Et n'oubliez pas d'aller découvrir IMAGINE TOI au théâtre des mathurins
LE MANS 25 septembre 2007
Julien COTTEREAU, le mime Marceau, la grâce d'un poète.
Le mime Marceau a offert quelques beaux héritiers au monde du spectacle. Parmi ces enfants de « Bip » le Manceau Julien Cottereau.
En juin dernier, les Sarthois découvraient le talent de Julien Cottereau, jeune clown mime, qui après quelques années dans la peau d'Eddy, le clown du Cirque du Soleil, est reparti à la conquête du monde en solo avec son spectacle « Imagine toi ». Le jeune artiste rend hommage au poète silencieux disparu samedi. « Je n'ai jamais vu le mime Marceau en spectacle. En revanche j'ai été marqué par un documentaire de l'INA où on le voit au Palais des Papes dans les années cinquante. La précision et la drôlerie de son travail sont stupéfiants. Le mime est un registre très codifié, sans bruit. Et Marcel Marceau a redonné toute sa grandeur à ce genre typiquement français. Le premier fût Debureau, le mime qui a inspiré le personnage de Baptiste joué par Jean Louis Barrault, dans « les enfants du paradis ». C'était la grande époque du Théâtre des Funambules sur les Grands boulevards. Puis Marcel Marceau est arrivé dans la troupe Renaud-Barrault et il a créé le personnage de Bip.
Adulé aux Etats-Unis, culte au Japon,Artisteglobe-trotteur (il rentre d'Australie où il a joué « Imagine toi » à l'Opéra de Sydney), Julien a mesuré la renommée du mime Marceau à l'étranger. « Aux Etats-Unis, il est considéré à l'égal de Charlie Chaplin. Et au japon, pays du théâtre Nô et du Kabuki, on lui voue un culte. En France, c'est différent. Je sais qu'il avait été très blessé par la fermeture de son école de mime, voici deux ou trois ans, faute de subventions. C'était la seule école de mime qui transmettait bien plus qu'un savoir, une tradition. Inspiré par cet illustre aîné, le jeune clown salue « le monde magique suggéré par un corps qui parle. C'est la beauté d'un art capable de montrer l'invisible et de déclencher l'imaginaire du spectateur. Marceau ouvrait ces portes sur l'imaginaire. Et c'est bien plus sérieux qu'on ne le croit d'être ensemble à voyager dans la même imagination par la grâce d'un simple geste » A propos de grâce Julien conclut sur une dernière touche de légèreté. « Marcel Marceau est mort le jour du Kippour (le Grand Pardon) ce qui est considéré comme un signe de grâce dans la religion juive. Pour un poète, c'est un symbole porteur de sens.
Frédérique BREHAUT